UFCBasBodyActionSystem
Body Action System - Standard Model
Head Pad + Torso Pad
$349.99
6 Weight Bags
---
Regular price
$399.99
$0.00
Unit price
per
The head pad is the only hitting pad of its kind in the world allowing you to do upper cuts and hooks correctly. Interactive targets on the torso pad ensure proper form and aim with punches, elbows & knees. All pads can be adjusted up and down for any user height or preference. Stand collapses quickly and easily for compact storage. An amazing workout and the best personal coach - Bas Rutten training video.
---
"If you've been eyeballing this system, don't wait years like I did, bite the bullet and buy it, you won't regret this :)" — C.M.
"Love it. Total butt kicker." — S.B.
"Have had mine for about 3 yrs and can attest to its adaptability and build quality regardless of your chosen martial art. It's worth the investment." — A.C.
"Just bought one. It's as good as it looks. Definitely worth the money." — D.W.

"My gym has one. Well made, very sturdy." — G.G.
"I LOVE my Body Action System. And plus, it's not used only for cardio kickboxing. I even use it during my Zumba workout routines… Awesome for me with my home gym" — J.S.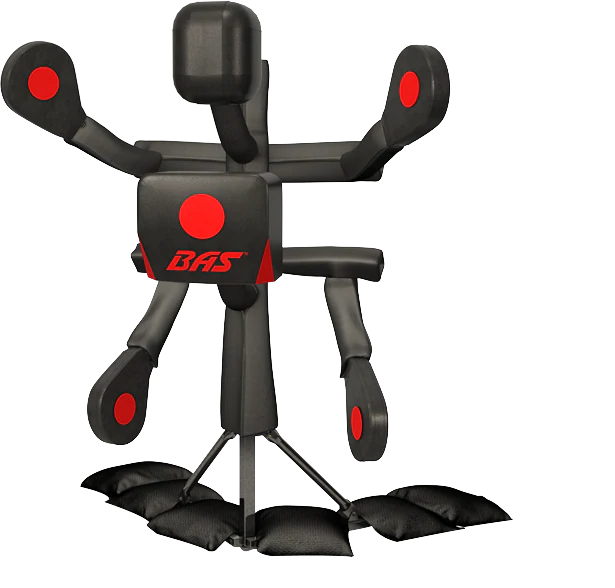 THE MOST EFFECTIVE MIXED MARTIAL ARTS WORKOUT
TRAIN LIKE BAS RUTTEN
The BAS Body Action System features a Head Pad which allows you to perform uppercuts & hooks correctly and a Torso Pad with interactive targets ensuring proper form with punches, elbows & knees.
Deluxe and X2 models incorporate Focus Pads & T-Bars for side-to-side striking, kicks and greater mass for advanced core training.
The system folds easily for compact storage and can be customized to accommodate a person of any size.
The BAS System is the closest thing to a real sparring partner and a fantastic all-in-one device to help you get the perfect workout!
Uppercuts! No other product works for uppercuts like the BAS.
"A follow up, I've had mine for a while now and it's great. I get my workout in during my lunch as I work from home… It's a great investment if you're training to get into the ring or just need a good workout, it's worth every penny." — L.S
"I love it… can't walk by it without throwing a couple of combos… 😂😂😎🥊🥋 — T.H.

"I got mine a week ago and it's awesome." — B.M.
"Many positions, angles, and adjustments available with this system. It takes everything you can give and more. It's like having 2 trainers holding multiple targets at the same time. I absolutely love it!" — R.W.
"This is amazing. I've had one for a while now and have never been disappointed. My strikes, knees and kicks are much tighter and my form has improved significantly as well. Amazing product!" — T.D.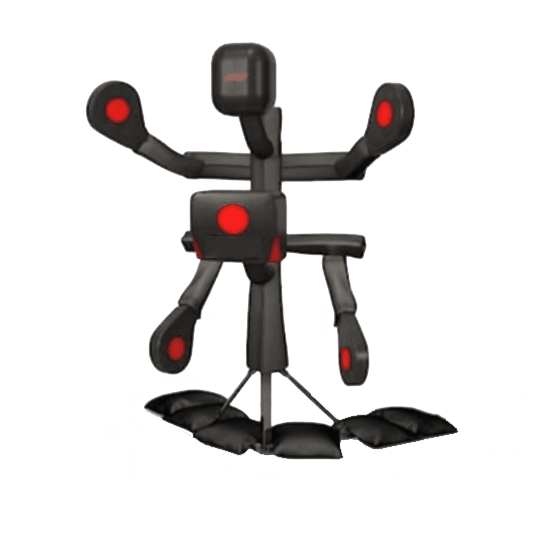 CUSTOMIZE
ADJUSTABLE FOR SIZE & TRAINING REGIMEN
Pads have hundreds of combinations of adjustments for height, width, angles and pad rotation
Adjust to the perfect height - head can go as height 6.5' or as low 4'
"BAS Body Action System is "Creme of the Crop", 100% Quality, a Mixed Martial Artistdrea, a Boxers Buddy, a person with a "No Quit Attitude" true workout reckoning. I Love the BAS Body Action System and Highly Recommend it to everyone. There is no better system!!! This is a truly remarkable engineering achievement. Buying and Owning one of these is a No-Brainer. Go out and Buy one. You will not regret it!!!!!! That's a Oorah from this Marine Mom!!!" — C.S.
"So you all know, this system is pretty awesome. People really need to give it a try."— J.M.

"I've had mine for years. Love it."— J.L.

"Best thing I ever purchased"— J.G.
"I LOVE mine! My son and I use it all the time. It's easy to set up too!" — J.F.

"This thing is tough as hell… one of my best purchases" — A.N.

"Buy it if your on the fence – you won't regret it. And get the workouts they have on the website. It's worth it. Get to level 3 in the workouts and you've earned it." — B.B.
"As Bas says "It's perfect!" The pads, the shape/design is basically a person holding pads for you. I recommend BAS for anyone who wants to get in a good "striking" workout anytime at home… Great equipment to have!!!" — H.V.

"Holds up very well to hard elbow, knees, kicks and easily handles hard punches best money I've ever spent on all my training gear"
Compare bas to other workouts!